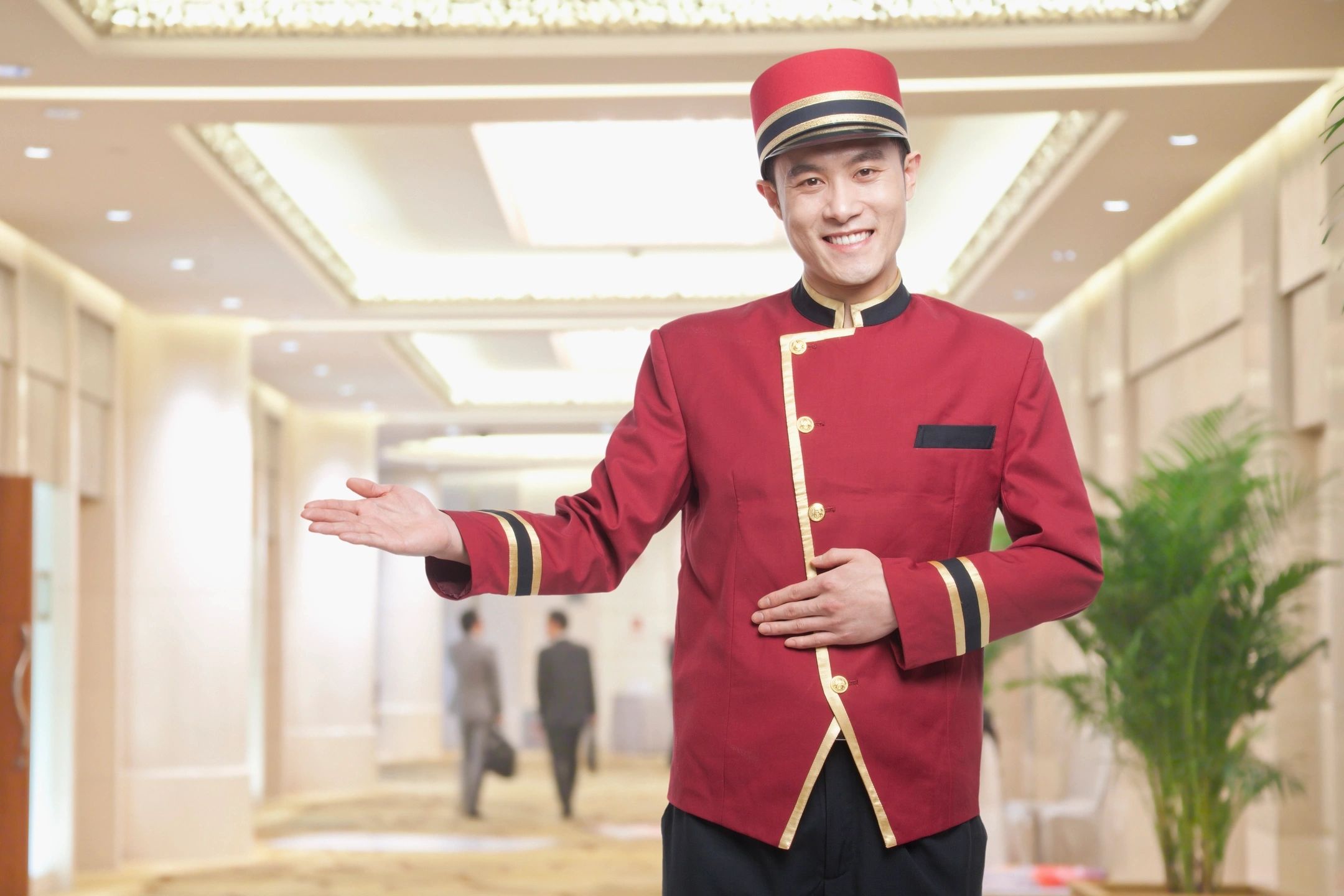 Hotels Will Need A 5-Star Rating in Safety and A 3-star Michelin Rating to Address Guest COVID-19 Concerns: Learning From Each Other – Hospitality Bridging Health Care (H2H)
by Frederick J. DeMicco, Ph.D., RDN, HAFIA and David Miles
A major lesson we have all learned from COVID is to look forward, not backwards, as to where the future of career opportunities will be. Two major industries are undergoing fundamental change with no clear vison in sight as to a final destination. Health care is strained with unprecedent demands and fewer staff than needed, while hospitality has excess capacity and talent, but limited consumer demand. Both markets need support and there are "Bridges" to be built and explored. We have written about and described in previous writings our Hotels/Hospitality Bridging Health or H2H (please see HospitalityNet and Hotel-online for these H2H writings). In fact, with the COVID-19 pandemic, hotels that practice and promote a safe (COVID-19 free), clean, and guest reassurances will have a competitive advantage and keep guest safe. Leapfrog is a management tool in the Health Care Industry with a primary focus on consumer information concerning safety and wellbeing. Hospitality can learn from this as consumers are focused on Hospitality safety and wellbeing. Our purpose here is to put such ideas forward and stimulate creative thinking for both professional arenas.
Leapfrog and Health Care: A publicly available rating of many health care service providers designed and delivered in average consumer language for easy access and understanding. (Visit www.leapfroggroup.org for more information)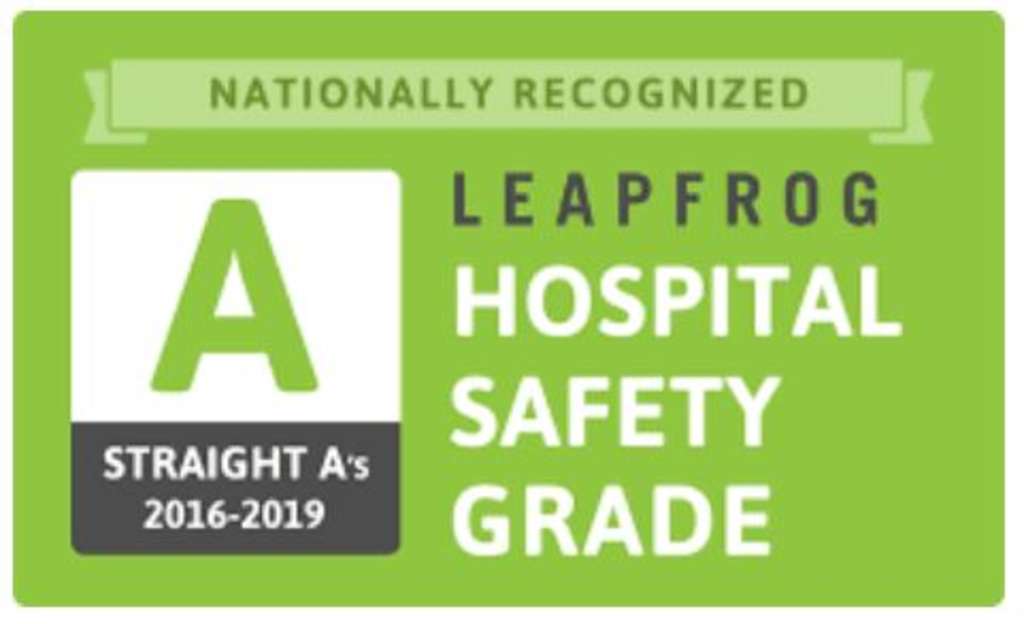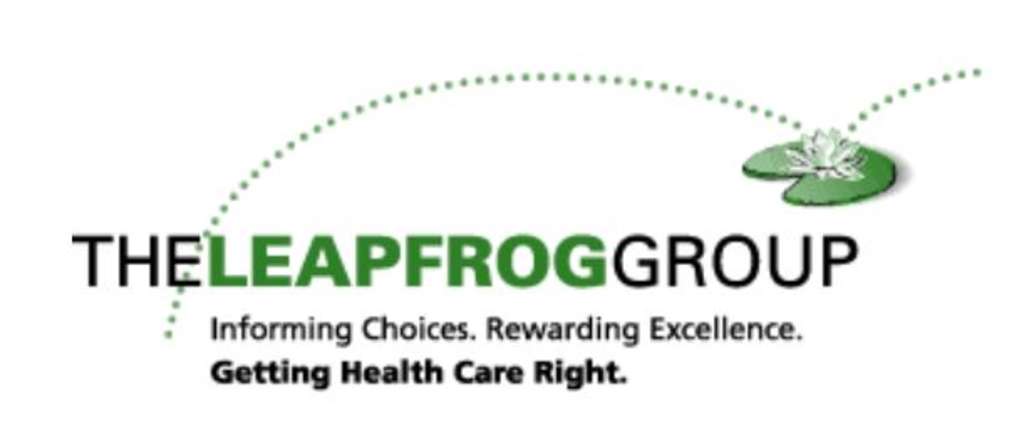 The Leapfrog Group is a nonprofit watchdog organization that serves as a voice for health care consumers and purchasers, using their collective influence to foster positive change in US health care. "Leapfrog is the nation's premier advocate of transparency in health care – collecting, analyzing and disseminating data to inform value-based purchasing and improved decision-making." (quoted from their website). In other words, the ratings received are focused on patient and patient outcomes to include perceptions of service and care received by the staff. You may want to go to the website and review your local providers ratings. These ratings are integral to accreditation and funding with a focus on you, the customer/patient.
Hospitality and Public Opinion Ratings through TripAdvisor:
TripAdvisor and other such rating apps provide you, the traveler, with information that previous travelers experienced when visiting a facility or area. While this type of information is labeled as "anecdotal," it is of value. Unfortunately, too many individuals have abused this media for multiple reasons. Unlike Leapfrog, which uses professional analytical reviewers and data, these open apps use comments collected by many different folks. While not trying to compare one model against the other, the concept is that Leapfrog now has a focus for consumers based on qualitative and quantitative data. Ratings that you as a consumer can relate to. A bridge between Health Care and Hospitality that is now in the full growth mode of driving consumer preferences. Yet in today's market, hospitals are at a loss for integrating this "service" culture as an added arena to excellence in Health Care Services. The shift may seem like a play on words, but it is a fundamental "new" service delivery model that is in addition to the medical services model at the foundation of all of Health Care services. This brings the bridge concept clearly into focus.
Bridge Conceptual Model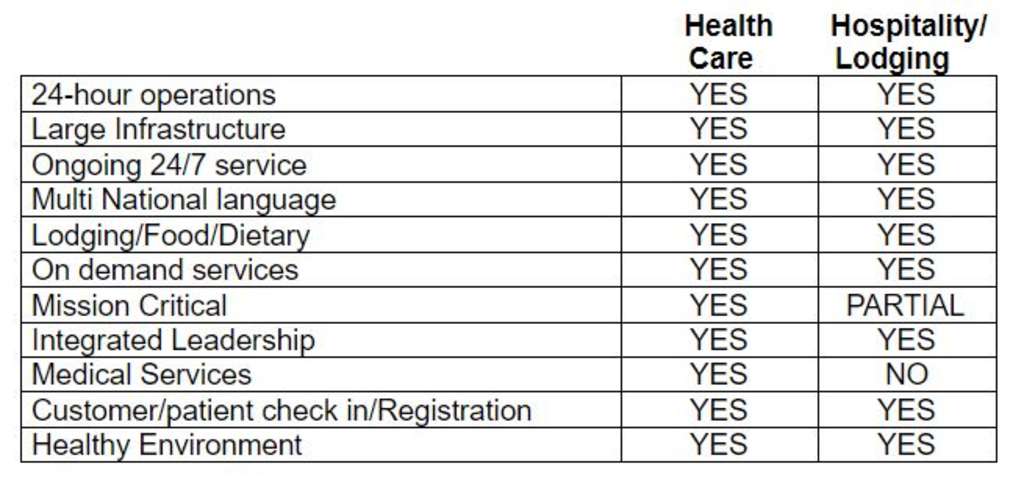 H2H: Hospitality Services bridging into Health Care Facilities
As we have seen in many other industries, fundamental change drives new thinking. Many of the services that the Hospitality Industry has managed to enhance consumer experiences are now becoming expected in the Health Care service providing experiences. We have learned that consumer expectations drive satisfaction outcomes. From this we can look at a Hotel and a Hospital as being very similar in many ways. Both have massive investments in buildings, furnishings, and support programs such as communications and food/dietary needs. The health care environment also must deal with the medical aspects as well as life threatening issues. But at the core is the patient and their ability to resolve their health issues. This is where the talents and skills of Hospitality, in conjunction with all of the medical services, comes together. A relaxed and cooperative patient has a much better chance of full recovery. This is the ultimate goal of health care.
Emerging start-ups creating a formal "Leapfrog style" Hospitality Safety rating system
One such company entering this "digital health company is Sharecare — whose early investors include Oprah Winfrey and Dr. Mehmet Oz — along with Forbes Travel Guide aim to be the hotel industry's go-to cleaning verification program, and their latest backers may be the key in making it stand out above other emerging third-party competitors.
"In the new normal, well-being is going to be at the forefront," said Sharecare CEO Jeff Arnold. "The next layer is this new expectation that's being shaped: Where I stay, work, and play – is it safe?"
Sharecare and the Forbes Travel Guide partnered on the Sharecare Health Security VERIFIED third-party system to evaluate and confirm an individual hotel's cleaning regimen. Think of it as an extension of FTG's five-star evaluation system but for health and safety rather than services and luxurious amenities." (Quote from Skift Take)
In summary consumers are requiring more transparency and assurances that both Health Care and Hospitality Organizations focus on safe and healthy environments. Building Trust around personal safety and health!
Haven: A New Health Care Model
Another fundamental change could be coming to the healthcare industry as companies rethink how they are providing health care to their employees. The Leapfrog Group has recognized and is attempting to ameliorate the lack of transparency in the health care industry. When it comes to health care cost, without transparency it is impossible (or at least difficult) to reduce cost. Another issue is that incentives are not always aligned between the healthcare provider and the patient to provide the best care possible for each patient.
In response to these issues and others, Warren Buffet, CEO of Berkshire Hathaway, teamed up with Jeff Bezos, CEO of Amazon, and Jamie Dimon, CEO of JPMorgan Chase. The three started a non-profit health care company in 2018 called Haven, whose aim was to change the way health care works -at least for their respective companies and employees. They made the announcement via a news release in January of 2018, stating that the goal of the venture would be to "improve US employee satisfaction while reducing overall [health care] costs."1
Haven was an ambitious, three-year-long project. On January 4, 2021, Haven made the announcement that the non-profit would be disbanding.2 Still, Haven brought awareness to many areas of healthcare that can and should be improved, and the nonprofit worked to find solutions.
One of Haven's goals was to "deliver simplified, high-quality, and transparent health care at a reasonable cost. We are focused on leveraging the power of data and technology to drive better incentives, a better patient experience and a better system." Haven hoped to improve health care by "making primary care easier to access, insurance benefits simpler to understand and easier to use, and prescription drugs more affordable."3 Had Haven been successful, the nonprofit would have provided health care coverage for over 1.2 million employees, between Amazon, Berkshire, and JPMorgan.4 Some people believed Haven would be "the biggest health care venture in a generation."4 Bezos, Buffet, and Dimon wanted to bring down costs and improve care, centering their organization around a positive patient experience.
In addressing the dissolution of Haven, Bezos said in a statement that "Haven 'worked very well' as a place to come up with ideas and test them but added: 'Now that we're ready to implement, we realize that doing so independently makes the most sense.'"2
The Message:
Hospitality has excess talent but a wealth of service knowledge. Health care is short on service talent and is struggling to keep delivery at an excellent level. Yet the patient is in the middle, expecting services outside of the medical needs that they have. Patients bring their fears and expectations to the Health Care Industry professionals, but do not always find the comfort they are seeking while undergoing medical procedures that they fear or do not understand. Integrating "patient service support teams" and a strategic approach to Patient Services into the equation will help bring the outcomes all are hoping for in our Health Care system. Health Care and Hospitality teaming for a better experience.
References
1 https://www.businesswire.com/news/home/20180130005676/en/Amazon-Berkshire-Hathaway-JPMorgan-Chase-partner-U.S.
2 https://nypost.com/2021/01/04/amazon-jpmorgan-berkshire-shutter-haven-health-venture/
3 https://www.havenhealthcare.com/
4 https://www.physicianleaders.org/news/physician-charge-gawande-new-role-doctors-applauding